Feature Presentations — Open to all attendees (2005 show)
We're thinking different — our Keynote is on Sunday and mid-day, rather than at the start of the show. Actually, it's because we're working around his schedule. Join us Sunday to hear from the incomparable Sinbad.
Saturday
12:00 - 1:00
The Rise of Mac Media — How to cash in on the latest trends in the new User-generated Media
[pertains to Windows too]
Discover what's next in Citizen's Journalism (Blogs. Moblogs, Zines, Podcasting, IPTV, User-generated ads & Guerilla Filmmaking). Promote you and your product or service for little or now cost and even get paid for your content and creativity.
If you've got a Mac, you've got your own production studios at your fingertips. Come learn how you can get yourself out there with little or no budget. Discover how to promote, market you and your project to the new Hollywood of Cyberspace and the Blogosphere. Don't miss this fast-paced, dynamic one-hour session.
Power Panelists Include: Mark Jeffrey, new media guru and co-creator of The Palace community online and author of The Pocket and the Pendant; Gordon Lee, CEO, American IDC and Smart SMS; Jim Bannister former executive at Warner Brothers Online and author "Word of Mouse," Joyce Schwarz, CEO JCOM marketing for emerging entertainment and author "Tech TV's Guide To Going Wireless" and Deb Shadovitz, who has been teaching and writing about creating websites since the web went public.
DISCOVER HOW TO USE EBOOKS & PODCASTING FOR FUN AND PROFIT!
Find out why Podcasting is in for business and see how to promote your business using podcasts and your own programming.
Discover how to reach the 22 million Americans with iPods or MP3 players.
Find out how to publish an ebook and promote it using Podcasting.
DEVELOP NEW INCOME STREAMS BLOGS, INTERNET TV & RADIO AND VIDEO ON DEMAND
Why are 5,000 new bloggers daily signing up at Typepad.com? How you can use your blog to promote your business.
Become a free-lance producer or stringer for mainstream media like Al Gore's current.tv , MTV or CNN.
Get your content syndicated via Video on Demand on major cable networks like Comcast and Time Warner Cable.
Start your own Internet Radio or TV program tomorrow.
USE YOUR WEBSITE AND REFLECT THE 'REAL YOU'
Check out how tools such as GoLive can update your website in less than a day.
Customize your online promotion to reflect your personality.
Promote your business and services with better website design.
BE MORE CREATIVE USING NETWORKED MEDIA
Find out how to go beyond just storytelling with new techniques like storyforming and storydwelling.
See how 'word of mouse' can be more effective than word of mouth.
Discover how to sell your Mac Media projects to Hollywood networks and studios.
CASH IN ON MOBILE COMMERCE:
Why alerts and updates can make you money if you use SmartSMS
How a 'short code' gives your customers instant access to your products anywhere and anytime.
Use text messaging to make money promoting what you love to do – even sports and poker!
2:00 - 3:00
The Mac in the Business of a radio station's website
The web team at KCRW has quite a challenge. They've got schedules to post, shows to tell you about, show hosts to introduce to readers. Then there's the audio; streams of shows both live and archived, and podcasts for you to download. And then there's the video. Yes, video. Bands come into the KCRW studios and perform live. Remote control cameras record these performances and the web team shares them with you on the website. This small team has a lot going on!
Come hear how KCRW's Web Team uses Macs to produce all the content for the KCRW website.
There's a lot of good info to be picked up from webmaster Jason Georges and his team in this session.
3:00 - 4:00
Learn how QuickBooks Pro 2005 for Mac can help you manage your small business.
Ivelina Manning is an Intuit certified QuickBooks expert who is excited to share her knowledge on QuickBooks Pro 2005 for Mac. Come learn about new features and how QuickBooks Pro 2005 for Mac can help you effectively and efficiently manage your small business. Ivelina will be providing an overview of the product as well as demonstrating some of the latest features.
Not only was this session educational but one attendee won a FREE iPod!
4:30 - 5:30
A Look at the Latest Version of Microsoft Office for Mac and Virtual PC

Why all the noise about Office for Mac 2004 and Virtual PC for Mac version 7, you ask? Could it be the new tools designed to help you manage and share your information like never before? Or might it be the way that Office 2004 makes putting together a great looking document so easy? Others say it is how Virtual PC 7 makes it even easier for Mac users to bridge to the Windows world.
To discover your favorite new feature, join members of the software development teams for a live demonstration of the latest in Office 2004 and Virtual PC. From Excel's stunningly simple Page Layout View to Virtual PC's speedier performance and set-up, come see what all the fuss is about.
The last part is dedicated to questions and answers. We love to hear from you!
Not only was this session educational but one attendee won 50 FREE iTunes downloads!
---
Sunday
11:00 - 12:00
The Mac in the Business of Misc Businesses
Chef JoAnna, Personal Chef and In-Home Caterer, is Mac all the way — portable Mac, that is. Learn how she maximizes her time brilliantly by using her Mac laptop.
Mark Jeffrey, Founder of The Palace, Linked In, and other businesses.
Sunday Keynote:
by The One-and-Only Sinbad!
Quit being a power user and start using the power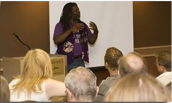 Did you know that in addition to being funny, Sinbad is also brilliant — and a Mac geek? He had some great insights to share with us in his usual humorous manner. Introduction by world-acclaimed storyteller, Michael D. McCarty.

 
4:00 - 5:00
(or longer)
Podcasters discuss podcasting
The combo of the Internet and the iPod has actually spawned a whole new way of sharing information — the podcast.
Is podcasting a viable way for you to get the word out about your business, organization, or self? It might be! Podcasting is part of the newest that the web brings us: user-generated marketing. Join long-time Mac author and tech geek Shelly Brisbin in her exploration of this latest phenomenon as we hear from three well-known and well-respected successful podcasters.
Tip: Immediately prior to this session, Shelly is teaching an Intro to podcasting. Consider joined her in this session if you're just starting out or are considering podcasting.
This page was last updated June 2005.