Tiger, Tiger burning bright in the shadows of the night.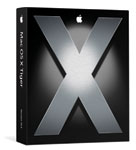 People keep telling us they want to know about Tiger. Who'd have guessed?
So we have a special Tiger event for you!
The Mac Gathering Tiger Extravaganza!
Saturday night, 8pm - until it's over
Join the Mac Gathering's Exhibitors and Speakers as they step into the spotlight and share the new tricks their software does with Tiger, their favorite Tiger tricks, or whatever they'd like to share that relates to Tiger.
Features include:
Fun, magic, music, amusement...and Tiger
Space is limited; the auditorium only holds 165.
Doors open at 7:30 for Seminar Pass holders.
At 7:45, space permitting, Exhibits Pass holders will be seated.   
This page was last updated on Friday, July 7, 2006 at 10:36 PM.