Comments about past shows
The 3rd annual MacGathering, May 19-20, 2006 in N. Hollywood.
What press said...
"Thanks for the wonderful show, I'm looking forword to next year's MacGathering™ already!"
-Paul Hoppe, Editor iOnMac(com) [May 2006] ~ iOnMac post show coverage
What attendees said...
I am wired and INSPIRED!!!!, after having spent all of Friday and Saturday at the Macgathering, produced for the third year by Deb Shadovitz. Way to go, Deb!!!!!!!
I volunteered to help out on Saturday, and had a blast meeting a slew of fabulous Mac users and seeing old friends. Then, I had the sublime opportunity to hear Jeff Levy (of KNX radio computer show fame) deliver a keynote address, letting all the Mac users know that he was wrong all those years, that he is learning the Mac and LOVES it. Jeff Levy!!!! Who would have thought???
As if that wasn't enough, on Saturday I went to a few of the seminars on sound recording, music recording, and podcasting. I want to podcast my classes!!!!!!! This is going to be COOL!!!!!!!! So now I know what the next steps are.
Anyway, congratulations and thanks to Deborah Shadovitz and her team, including a slew of techs in constant motion, with toolkits, power strips, projectors, extension cords, laptops, etc., etc.
-Laurel (posted to an LA area email list) [May 2006]
Yesterday at the annual MacGathering it was crazy, and fun! If you missed it, you missed a good show! In my humble opinion as game show producer ;-), the Mac Jeopardy game yesterday alone was worth the admission price, and we're already planning to do it again at next year's MacGathering.
-Bruce Brown [May 20 2006]
Deb: Really enjoyed the Mac gathering. Purchased several software programs. Found out how to attach my Nikon lens to my Cannon EOS (really cool!), picked up lots of great information and met a lot of nice people. Please do it again next year. Thanks for a great job. —Laurence [May 2006]
Just wanted to say *Thank You* for organizing the macgathering.com workshops.
Sorry I could not make it both days, but the seminars the second day were very helpful.
-Wendy [May 23, 2006]
The 2005 show, held in N. Hollywood...
Hi Deb
I just wanted to thank you for a great MacGathering. I really enjoyed all of my classes and chats with many of the young men who gave me lots of tip and helped me with my problems w/ OS X. So thanks again for all your hard work in putting together this Gathering. It was great. Please keep me on your mailing list and let me know whenever you have a class, seminar or another Gathering.
THANKS AGAIN!
Judith [May 20, 2005]
Hi Deb,
Let me thank you for putting on the marvelous Macintosh Gathering where I learned so much, and bought new software. I enjoyed it a immensely.
~ Valerie Y. [May 17, 2005]
Deborah
I wanted to thank you again for including me in your event. I had a great time attending, participating, meeting new people and learning new things. I only wish I could have helped more, learned more, seen more. I am sorry to have missed the after-hours session on Saturday as it sounded like a lot of fun!
Sinbad was entertaining and also had some really quotable things to say. Just because one plays the fool doesn't mean one IS a fool. I would love to help him present some ideas to Apple management, as I think he has some good ones.
I was gratified that some people actually got something from my class. It has truly whetted my appetite to do it again!
Your efforts resulted in a great show and I heard many positive comments.
Thanks again,
Fielden [May 16, 2005]
Deb,
As a PC geek for 20 years, I have to say I got some pretty good information on Mac this pass weekend. Good job pulling all these together.
Do you happen to know Dean's e-mail address.... BTW, we all had dinner together on Saturday night.
Again, thank you and looking forward to next year show.
~ Allen [May 16, 2005]
Thanks Deb, that was fun!
I had a good time, met some good people, chatted quite a lot, learned new things about Tiger, and helped quite a few people! And Sinbad was one funny and surprisingly awesome Mac user.
I look forward to more events with you in the future!
Andrew Farley
System Support Specialist
TBWA\Chiat\Day [May 16, 2005]
Deb,
I'd just like to take a moment to say thanks for including me in MacGathering. It was a pleasure to get to meet some new "Mac" folk, as well as have the opportunity to work with you. I learned a lot, and really enjoyed sharing what I know with the "newbie" crowd. Based on the comments I received, most seemed to have as much fun as I did. Some of them even learned some stuff. Those two things are all that mattered.
~ Jim Mitchell [May 16, 2005]
Please thank all your staff, instructors and presenters for MG. I went to the Sunday activities and learned some nifty things and met some wonderful folks.
Sinbad was marvelous and more marvelous because he had a good message about becoming a user of the power — I couldn't agree more; it's so easy to get sucked into the hardware/software – it can all be seductive. It reminded me to focus on what I love and can do best.
Sincerely,
Dorothy Yamamoto [May 16, 2005]
[A post on an LA professional's list]
MacGathering:
I was there today talking on a panel, will be there tommorrow as well talking on a podcasting panel at 4:00.
...The panel I was on today was nearly identical in terms of people and content (Jim Banister, Joyce Schwarz, Gordon Lee, a cellphone media guy) to one at Digital Hollywood a couple weeks back I went to, and those tickets were in the $1000+ range -- and Deb landed these same exact people talking about almost the same exact things for a pretty darned affordable price in comparison.
Bottom line: if you missed today, go tommorrow.
PS: I don't own a Mac.
PPS: But I do own an iPod Shuffle. And there is an original Apple ][ in my closet in my parent's house. Does that count?
~ Mark Jeffrey [May 14, 2005]
[Deb's note: It was Joyce Schwarz who landed that amazing panel.]
It was an exceptional show. Central location, tons of parking, easy on and off the Hollywood Freeway for the directions-challenged, and just over the hill from the Hollywood Bowl for anyone with a phobia of travelling west of Bundy.
But Mark [Jeffrey, in response to above quote] is once again being way too modest ... his citizens' journalism panel with Jim Bannister, Gordon Lee et al. and moderated by the irrepressible Joyce Schwarz was IMHO much more impressive than its Digital Hollywood counterpart! I wanted to stay for the KCRW podcast directly following, but unfortunately had a memorial service to attend.
Yours was a fun show
~ Kimberly KB [May 18, 2005]
Comments about 2003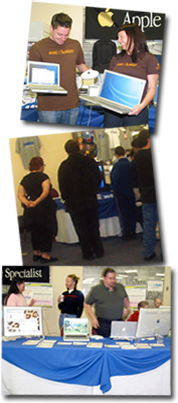 The first ever MacGathering was held April 2003.
What attendees said about the first MacGathering in Southern California...
"Just to say again that I found the classes I attended very useful.
Thanks! Keep me posted about future gatherings."
~Wendy M.
"Last year's event gave me easy access to vendors I'd have sought out at Macworld Expo but without travel hassles & hotel costs. The seminars I attended were excellent & I took advantage of some vendors' discounts to shop. I look forward to this year's Mac Gathering being bigger & better & hope it will become a dynamic annual event."
~Elaine
"Congratulations on the first Mac Gathering.
A success, especially for a first go. The day zoomed by quickly."
~Dave
"Hey, Deb....
That was GREAT !!!
Congratulations to you on a big league effort.
THANKS for regenerating a wonderful spark!!"
~Jim
This page was last updated on Monday, August 28, 2006 at 1:41 AM.