MacGathering & SoHo Tech Show, LA 2006 • Exhibitors
Come in, sit down and really learn.
Exhibit Hall hours: Friday extended hours! Friday 10:30 - 7:00 • Saturday 10:00 - 6:00
Leo Laport says, "There are lots of Macintosh shows, but the MacGathering™ is more than a trade show. It's a chance to get up close and personal with Mac hardware and software in a relaxed, friendly setting. Why fly to a big impersonal trade show in New York or San Francisco when you can go to the MacGathering!"
Jeff Levy, KNX radio's Computer News, took a look at what we've got going here and said he'll be here Friday for sure!
We've even got stuff for you if you're not into Mac. Music, photography, astronomy....
Pricing: Door — $15 • In advance — $10 • Coupon/MUG/Teachers/Students — $7 (coupons still honored)
All tickets included admission to both days of exhibits, some free sessions, and birds of a feather both days.
Children 12 and under are free, up to 3 children per adult. Children under 15 must be accompanied by an adult unless pre-approved.
For more than two decades, the company's award-winning technologies and software have redefined business, entertainment, and personal communications by setting new standards for producing and delivering content that engages people anywhere at anytime. From rich images in print, video, and film to dynamic digital content for a variety of media, the impact of Adobe solutions is clear to anyone who creates, views, and interacts with information.
Now that Adobe and Macromedia are one company, Adobe is better positioned than ever to push the boundaries of the digital universe. Under the leadership of CEO Bruce Chizen, we're driving even greater innovation with powerful, compelling software solutions that meet the needs of customers and markets ranging from designers and filmmakers, to enterprises and governments, to developers and home users.
BIAS, Inc., a privately held corporation based in Petaluma, California, is an established leader in cutting-edge audio software technology. BIAS' award-winning product line — which currently includes Peak Pro XT, Peak Pro, Peak LE, Deck, Deck LE, Master Perfection Suite, SoundSoap, and SoundSoap Pro — can be heard on numerous hit recordings, Hollywood and independent feature films, television productions, websites, video games, and other productions. BIAS, founded in 1994 as Berkley Integrated Audio Software Inc, is dedicated to crafting powerful, innovative tools for audio, video, and film professionals, as well as musicians, composers, multimedia developers, and Internet authors.
EazyDraw is a vector drawing application designed from the ground up for OS X. It is rapidly becoming the drawing application of choice for Engineers, Scientist, Entrepreneurs, Artists, Hobbyist and Educators. It's fresh new design makes it, well.. as easy as using a Mac.
EazyDraw provides a balanced feature set, not bloated with obscure computer illustration proceedures. The new OS X user interface stays out of the way and lets you get your ideas on paper - or the web. Import your classic Mac graphics files: PICT, MacDrawII, MacDrawPro, and ClarisDraw. Publish in today's vector formats, PDF and EPS or a wide range of bitmap formats (JPG, TIF, favicon, BMP, PNG, GIF, ...) for the Web, the Mac or Windows users. Oh! .. and the new version 2.0 will let you edit PDF content, check eazydraw.com/whatsNew.htm to learn more about version 2.0.
Stop by our exhibit for a first hand look at EazyDraw running native on a new 17 inch Intel-duo MacBookPro. EazyDraw users, pick up a free upgrade to version 2.0 and bring your current project for tips and pointers, or just to show off. Make drawing fun on OS X.
Elgato Systems creates award-winning products around the convergence of the Macintosh computer with home entertainment devices. Elgato's products take advantage of the benefits of the Mac, allowing you to record, edit or share TV recordings, movies, photos, and music with the entertainment devices in your home.
Elgato brings you a diverse line of quality products. The highly acclaimed EyeTV series, the world leader in digital TV recording and High Definition TV for the Mac, EyeHome for playing Mac-based content across a home network, and EyeConnect for streaming Mac content to UPnP™ A/V digital media players in your home. EyeTV was recently awarded the US Macworld Magazine's prestigious Eddy Award. Elgato products support the broadest range of global TV standards within the industry. Elgato is at the forefront of positioning the Macintosh as the ultimate digital hub for your home entertainment.
Come check out the new EyeTV 250 and see for yourself how it works and what it can add to your life.
Having trouble printing in Mac OS X? Are you plagued by processor intensive Spotlight indexing? Whatever your particular problem, Fixamac Software, Inc. may have a solution for you.
We bring you the ultimate in printing software diagnostics and repair for Mac OS X 10.1.2 through Mac OS X 10.4.x. Print Center Repair and Printer Setup Repair were the first products in the world, designed exclusively for Mac OS X, to combat printing issues at a software level.
Spotless, our newest offering, is the ultimate Spotlight content index manager which puts content indexing control right where is should be - back in the hands of the user.
Untrap your memories! Tell the story of... your family, business, trade, school, town, club, or any story. Get your photos out of those boxes, share your words. Bring memories and stories to life in a whole new way with MemoryMiner!
You can stop there, with an interesting presentation you can burn to CD or post on the web.
Or...
Share your memories on the web — and invite others to add their recollections and experiences to yours, linking them in, with others linking stories, an endless story and growth experience that can bring people from all over the world together, building a story the likes of which we've never been able to see before.
You visited a village, someone else is from that village and fills in some gaps. You went to school somewhere, or met some celebrity or worked somewhere once — and others know that school, person or place as well. If you'd like, these added perspectives can add to your story. Bring the world closer together while expanding experiences. Or just tell your family history, sharing only with your family, letting everyone fill in a gap or two. The uniqueness of MemoryMiner is well-explained in this Typical Mac User Special Interview. And of course, eve better explained with first-hand experience.
We invite you to bring a CD of some of your own photos and some text files of photo captions or stories and the very creator of this ground-breaking, memory-freeing software, John C. Fox will personally help you get your own Memory started right there at the show. Memory Miner won Best of Show at Macworld Expo. Now the MacGathering gives you the opportunity to sit down for a personal introduction to it.
There's nothing like a well-done scrapbook to keep your memories and share them with your family or friends, so we created iRemember to make scrapbooking easier and more flexible.
We've got over 500 templates to get you started, and plenty of backgrounds, clipart and corners to make it your own. Just put your digital photos or image onto the page, drag them around, and use our simple contols to fit everything exactly to your liking. Our stickers never get used up, there's no messy glue, and you don't have to cut up good photos. Witih iRemember, you can print out multiple copies of your scrapbook, so all of your family or friends can share the memory.
We invite you to sit with us and learn how iRemember works. Bring a CD of some photos and we'll help you get your first page started. (This offer is first-come first-served, or by an appointment we'll set up.)
And we've got a contest for you. Be the person to design one of our new templates and see it become part of v2. Learn about our contest at our site.
Don't know anything about the iPod yet? Wondering what iTunes and the iPod are all about?
Come visit us for priviate hands-on tutoring. Sit, ask, try, learn. Have other questions? Come on by, we've got experts on hand. Wonder which iPod model is right for you? Come on by, we've got them all.
iProng, one of the world's leading iPod websites, is providing free hands-on iPod and iTunes tutoring to all attendees in fifteen minute intervals at its booth. Stop by the iProng booth early to sign up for your own hands-on time slot, or stop in anytime to observe. A free "Which iPod is right for you?" mini-seminar will also be provided at the booth on both days at 11:00, 1:00, 3:00, and 5:00. Stop by anytime to sit down with our editorial staff and discuss the iPod and iTunes universe or sign up for a contestant slot at our iPod DJ Party! The party is Saturday night so stop by and talk to us if you'd like to learn more about how to compete and win prizes.
iProng.com (formerly iPodGarage.com) has been the voice of the iPod generation for more than two and a half years and offers readers the widest variety of iPod-related original content available anywhere on the internet. Published daily for nearly two years now, iPod Garage original content includes iPod and iTunes commentary, hundreds of hands-on iPod accessory reviews, up to the minute iPod and iTunes news, music reviews, humor pieces, tutorials, Q&A sessions and more.
Producing a movie doesn't have to be difficult! With Gorilla, all of your information can be stored in one place: Budgeting, scheduling, crew, cast, profit-sharing, editing notes, and even film festival submissions. When it's time to create reports, Gorilla can generate over 70 industry-standard reports, from stripboards to breakdown sheets, budget top sheets to variances, your entire production can be run from one program.
Gorilla is the only software package built with the independent producer in mind. You have to do it all, and Gorilla is with you every step of the way. We design software for filmmakers because we are filmmakers — independent filmmakers.
Finally, there is a solution that actually makes creative designers more productive, NuLOOQ™ Professional Series. Smoothly scroll and zoom documents, make precise adjustments to tool attributes, or open a customizable interface with up to 72 user defined options that appears right under the cursor, Designed to work along side the keyboard and mouse, the NuLOOQ navigator™ is an alternate hand input device that delivers powerful new control over Adobe Creative Suite 2 applications. NuLOOQ tooldial™ gives users command of the workspace with a customizable interface that appears where the work is, under the cursor, and disappears after a selection is made. Supports Mac OS X v10.4 and Adobe Creative Suite 2. Come see it at the Logitech booth at MacGathering!
M-Audio, a business unit of Avid Technology, Inc, is a leading provider of creative tools for computer-centric musicians and audio professionals. M-Audio is a driving force empowering musicians to create, perform and record with complete mobile hardware/software solutions that have forever changed when, where and how music is made.
Easy-to-use, affordable products that enable you to get into music on your computer at any level. They've got the perfect beginner midi controller for use with Garage Band or with eMedia's Piano & Keyboard Method lessons. They've got higher-end keyboards too, of course. They've got podcast solutions, microphones, and mixers. And a bunch of equipment for professional and near-professional musicians. (This page gives you a better idea.) M-Audio's advanced engineering and value-conscious pricing has also helped to bring the joy of creating high-quality music to virtually anyone with the desire.
Mace Group/Macally Peripherals has designed and manufactured an innovative, premium line of computer Carrying Cases, Input devices, iPod Accessories, Multimedia devices and Mass Storage Solutions to suit your needs available in USB, Optical, Firewire, or Wireless configurations. Macally is devoted to bringing stylish comfort and performance to every Mac user.
We'll be showing many of our new products in our booth — and they'll be for sale at by MelroseMac.
We'll also have legacy and refurbished items for sale at our booth.
MacSpeech makes insanely great products that allow you to speak to your Mac. We believe speech should be pervasive on the Macintosh. Our flagship product, iListen allows you to dictate into virtually any application - anywhere you would normally type - as well as control your Mac with your voice.
MacSpeech employs software engineers previously responsible for the Macintosh's first dictation software, PowerSecretary. Each of MacSpeech's senior engineers worked on that project for Articulate Systems; together they are considered the most experienced speech recognition engineers on the Mac. Our engineering team is rounded out by engineers who have worked on award-winning Macintosh products. Their collective experience includes some of the most extensive sound input experience on the Macintosh. Our development team has worked for Apple, Eastman Kodak, STF Technologies, Dragon Systems, and Wang, among others.
We teach computers how to listen!
Come sit with us at our booth, see for yourself, and learn all about it. We'll be holding classes in our booth!
We'll have show specials for you, of course.
Amazing quality banners for your event or business. And the prices... you've just got to check them out and compare to see just what a value you'll get.
MelroseMac is a certificed Apple Specialist serving all Mac users with a special focus on creative professionals.
Stop by the Macintosh Business Unit booth to mingle with the people who build Office for Mac and Virtual PC. They are available to answer your questions and demonstrate how to get the most out of Microsoft's Mac products. Here's your chance to roll-up your sleeves and take Office 2004 and Virtual PC for a test drive, with team members as your personal guides!"
Nikon, At the Heart of the Image™. Nikon Inc. is the world leader in digital imaging, precision optics and photo imaging technology and is globally recognized for setting new standards in product design and performance for its award-winning consumer and professional photographic equipment. Nikon Inc. distributes the Nikon Total Imaging System of consumer and professional digital SLR cameras, Nikkor optics, Speedlights and System Accessories; Nikon Coolpix® compact digital cameras; Coolscan® digital film scanners; 35mm film SLR cameras; Nikon software products and Nikon sports and recreational optics. At the heart of every Nikon camera is Nikon's Exclusive Feature System, making it easy for anyone to take amazing digital pictures. Through the Nikon Spirit Initiative™, the company, plays an active role in supporting aspiring and advanced photographers through a variety of philanthropic organizations, educational programs, events and workshops. For more information, dial (800) NIKON-US or visit www.nikonusa.com, which links all levels of photographers to the web's most comprehensive photo learning and sharing communities.
Unlock the mysteries of the universe! Oceanside Photo and Telescope, known as OPT, is well-known by astronomers as a highly-recommended place to turn for information about telescopes, thanks to their knowledgeable, experienced telescope staff. We invite you to visit our booth and learn all about telescopes, astronomy, and how your Mac or PC can tie in with our telescopes to bring the sky to you in a whole new way, showing you things that may just surprise you.
Capture a moment with a digital camera. We started out as a photo equipment store and sell several popular brands of digital cameras, both point-and-shoot and SLR.
OPT started out as a small camera store back in1947 and has since grown into one of the largest telescope retailers in the world. OPT is a real store located just off the 5 freeway in Oceanside, California, staffed by real astronomy and photography enthusiasts who are ready to help you in the store, by phone, or by email — and of course, at the MacGathering/SoHo Tech Show exhibit hall.
Photo to Movie is the advanced way to turn your digital photos into a spectacular QuickTime movie. Using an extended version of the Ken Burns effect, it will literally change the way you look at your photos forever. You can zoom and pan, choosing the exact final focal point within your photo. You can rotate over your photos, blending them together with transition from one photo to the next, again choosing your focal point. Add titles and music and you have a high quality movie ready to burn to DVD. Easy, very easy, but with full control.
We've got a Mac version (of course) and a Windows version as well.
QuarkXPress 7 is on the way — and this is a chance to learn about it up close and in person.
Eddy Award-winning QuarkXPress 6.5 took Design and Creative content development to the next level like multiple undo, synchronized text, image control, XML and PSD Import and many powerful enhancements. XPress 7.0 adds so much more.
We have something for all designers, prepress, and output providers. Come have a look. Come talk to us. Come for a hands-on with us. If you have questions or would like more information before the show, please contact Leith Speights at 714.350.5544 or send him an email message.
Rad cases for notebooks and a whole lot more!

RadTech provides every type of notebook case imaginable; from the stylish and minimal, to the ultra-tough and rugged MacTruck, the "roadies choice" for touring musicians and bands.
Solutions for your PowerBook's tight or squeaking hinges or missing feet and bumpers. Covers and cleaners to protect and maintain your computer's display, and our award-winning line bluetooth mice. Cool new data storage solutions, tons of iPod gear and useful stuff for shutter bugs.
RadTech designs, manufactures and distributes innovative, high-tech accessories for the digitally aware. Our solutions are practical, durable, ruggedly built, functional at environmental extremes and lightweight. At RadTech, we enhance your digital lifestyle.
Stop by our booth to see a selection of our products and solutions, grab our special money-saving MacGathering promo code and register to win one of four iPod nanos we're giving away in May!
Founded in 2002, Ripple Training is the premiere training destination for users of Apple's Final Cut Pro, Final Cut Express, DVD Studio Pro, Motion, Soundtrack and LiveType. Training is offered in short-form, pay-per-download QuickTime movies as well as long-form DVD-based tutorials.
Come by and see what we have for you. If you have questions we have answers.
Roxio, a division of Sonic Solutions, develops and markets the best-selling digital media software in the world. Roxio offers award-winning software products for CD/DVD burning, photo editing and video editing and has an installed base of over 150 million users. Roxio's offers a complete line of Mac applications including the award-winning Toast 7, Popcorn and The Boom Box.
Enable your customers to log in to your Mac from either Mac or Windows and see the files you've created for them. SeeFIle is an excellent tool for photographers, graphic designers, location scouts, architects, and so many others.
If you have items to photograph and don't want tables, curtains and the like complicating the image, you can either spend some time in Photoshop or you can get a clean object shot right off the bat with our ground-breaking D-Flector.
Do you have: family heirlooms or other favorite you'd like a picture of for posterity, items you'd like to document for appraisals, items to photograph for scrap booking, or items to sell on eBay? If so, the D-Flector will save you a lot of time and hassle.
Special invitation: We invite you to bring a favorite item and we'll photograph it or help you take your own picture — for free, of course.
Special invitation 2: Because the D-Flector is so great for shooting object for documentation or sales, We'll have an appraiser right in our booth to give you a FREE appraisal of something you bring. (Limit one per person.)
Digital music without boundaries. Squeezebox from Slim Devices is the way to get digital music, in all its forms, back into the living room, kitchen, bedroom or any room. The Squeezebox network music player uses WiFi or Ethernet networking to link to your digital music collection, internet radio stations or even new online music services like Pandora.com. Squeezebox plugs into headphones, powered speakers or complete stereo of home theater systems to give you the full quality of the music in the place where you want to listen to it. With its sleek design, easy to read display and support for a wide range of digital music formats, Squeezebox is the music lover's choice.
Soundcast Systems is a leading provider of revolutionary wireless audio transmission systems with two new breakthrough products - iCast and AudioCast - designed to offer the highest-quality wireless transmission from digital music players or personal computers to home stereo systems. Soundcast's iCast is built to work exclusively with Apple's iPodT, while its sister product, AudioCast is compatible with other devices, such as personal computers or MP3 players.
The iCast transmitter comes with approved, interchangeable inserts that accommodate different iPod models. Tracking and menu controls operate while the iPod is installed in the dock and transmitting music to the receiver, and the docking unit serves as a battery charger for the iPod. The iCast receiver also duplicates several key iPod functions to allow users to operate their music players remotely from another room in the home.
Soundcast will provide MacGathering attendees with an exclusive look at the iCast product in action - showcasing how consumers can easily and cost-effectively turn their iPod/music library into a wireless home theatre system!
Enter Soundcast's music contest to win free products at: SoundcastSystems.com
Create cinematic music for your film, video, or DVD project with easy-to-use software that delivers professional results.
Musicbed DV is an easy-to-use music creation application designed for visual media pros. Season One is a cinematic stock music library built for customizability. You can quickly create music with a composed-to-picture feel in a time frame that will surprise you.
Customize the music's feel to match the mood of your visual project. Innovative features give you control over music's style and texture. Sculpt music over scenes with style and texture automation to underscore the movement of your visual sequences. Adjust music style, texture, and transitions to accent edits and other important locations.
All music is available as stereo mixes, instrumental stems, and surround music at any custom duration.
Tropical Software, Inc. will demonstrate at least 2 products, TopXNotes and TopXNotes iPod. Learn how to organize, quickly access, and secure your notes, and if you'd like, put them on an iPod.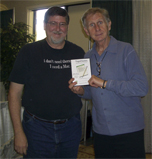 James Lee, of Tropical Sofware with a new customer, René Auberjonois,
on the show floor May 20, 2006.

Makers of the #1 selling screenwriting software, Movie Magic Screenwriter, Write Brothers, Inc.
Since 1982, Write Brothers Inc. (formerly called Screenplay Systems) has been the world leader in film and television production software. Our software is sold worldwide and has been used in the development of most of your favorite films and television shows.
Rather than stifle creativity, Write Brothers believes that the computer has given people unprecedented freedom to create, develop, and implement new ideas and inspirations. Since 1990, over 80% of the Academy Award® nominations and 95% of the Emmy® awards went to companies that used Write Brothers/ Screenplay Systems' software.
Southern California Podcasters
Come meet the people of the So Cal Podcasters groups. Learn what their groups have to offer, when and where they meet. Perhaps watch some live podcasts and interviews. Also learn about other resources available to you, such as the Portable Media Expo which takes place September 29-30, 2006.
Speaker's Products/Book signing
Some of our speakers are book authors or have excellent CDs out for you to learn from. We'll have some of their products for sales for you. Autograph/book/CD signings as well. Times to be announced.
QuickTime VR expert and instructor Tim Petro also has a great product called Bongo Ties.
Wondering about Bongo Ties? Meet Tim, their creator.

Southern California User Groups Courtesy Center
One of the best ways to learn about anything computer related is by joining a User Group. User Groups abound around the world. There are hundreds of Macintosh User Groups, and many groups that serve specific fields as well. Members of these various groups will be providing informational materials here for you to discover. There will aslo be people there for you to sit and chat with for a while.
For example, on Friday you can come learn about the Digital Cinema Society, a group that serves the film-making community.
[If you run a User Group, please email us]
Don't see a vendor you'd like us to have? Tell us.
This page was last updated May 2006.