Friday 10:00 - 6:30 & Saturday 9:00 - 5:30:
Seminars covering all sorts of topics. Professional photography, graphics, audio, and video. Beginners. Business. Audio and podcasting. (These seminars require a Seminars Pass.)
Final Cut Pro tips from world-class all-things-digital-video trainer Steve Martin. Professional audio lessons you can't get anywhere else like this for tihs price! Design class by magazine and book author Andy Shalat. Podcasting by author Shelly Brisbin and audio by author Dan Klass. Special visual effects in Photoshop by author Jeff Foster. QuickTime VR! Flash animation! And so much more.
Friday seminars, Saturday seminars.
Friday 10:30 - 7:00 (extended Friday hours) & Saturday 10:00 - 6:00:
Expo: Exhibit Hall open for you to learn from programmers, product managers & reps, providing a rare opportunity for excellent attention. Special booth: iPod Garage is providing free iPod tutoring. We're also working on show-floor hands-on classes. Product premiers!
Free sessions open to all attendees. (Exhibits pass is all that's required.) We're putting together free seminars on how to set up a home offfice, helping you determine which platform, hardware and software is right for you tasks at hand, and perhaps a couple on setting up for pro audio and pro video. See Features->Free Sessions for more info.
Teachers: on Saturday we have 2 or 3 instructors-only discussions about Integrating Technology into the Classroom. (Exhibits pass is all that's required.) See Features for more info.

Friday Evening:
The premiere of the MacGathering MacMixer™ — a cocktail party for all attendees where you can mingle with fellow Mac-users, some terrific instructors and vendors.
Jerry Mathers (yes, that Jerry Mathers) will be there.

And Jeff Levy,
as in COMPUTER NEWS with Jeff Levy on KNX1070 News Radio.
More info on our Features page. 
Keynote by KNX1070's Computer News Guy — Jeff Levy

Looking for Sinbad here? He was scheduled to do our keynote but unfortunately, due to booking error some lucky people elsewhere will see him instead on Friday night.
[But you can hear last year's Sinbad Keynote at MacCast.com.]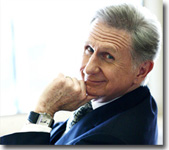 Saturday Evening:
Mac Jeopardy with a twist — hosted by Boston Legal's René Auberjonois.
Brush up on your Mac knowledge. You may be picked from the audience to be part of a contestant team. And, of course this is for prizes.
Then, you're invited to our iPod DeeJay contest, complete with prizes.
See Features for more info.

*All celebrity appearances are schedule permitting.
Want to exhibit, sponsor, or purchase a show guide ad for 2007?
Exhibiting is easy. There are no huge booth fees and set-up is simple.
Sponsorships for 2007 will again include logo placement on our banners, prominent sized and placed logos on our website, your logo on the our show bag, space in our show program, mentions in PR, and more. We will also have some nice exhibitor and sponsorship perks again. Our 2006 Show Guide ran 52 pages. Main sponsors receive the covers; other prime ad spaces will also be available.