Deborah Shadovitz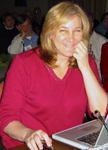 Deborah Shadovitz is a well-known and respected Macintosh/computer book author and columnist. She is a Contributing Editor at MacAddict magazine, a columnist for Mac Design magazine, and a contributor to O'Reilly publishing's O'Reillynet.com. She's also penned several books including the award-winning Office 98 Bible and the Adobe GoLive 5 Bible, and as well as contributing to popular computer books.
Deborah's been a regular presenter at Macworld Expo & Conference since 1997 and was a trainer/presenter for the LAMG from 1994-1998. She has also presented at shows such at Internet World. Deborah has created several successful seminars for MacFair LA and Macworld Expo & Conference, not just for herself, but for others as well, matching user needs to people's expertise. Additionally, although not a principle in MacFair LA, she played several key volunteer roles for the show. In 1994, she also ran the National Apple User Group Seminar & Workshop. Additionally, as A/V manager for a large non-profit in NYC, Deborah worked on many a special event from 1981-1984.
You can learn more about Deborah at her personal site.
Paul Cartwright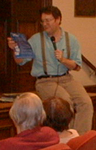 Paul Cartwright is the owner of MacTech Services, and a recognized member of the Apple Consulting Network. Through MacTech Services, he provides diagnostics, trouble-shooting, installation, training, and upgrade recommendations to Mac users. He is also currently the San Gabriel Valley Macintosh User Group President and Program Coordinator.
Paul began using Macintosh computers as a student while working for the University of Southern California's University Consulting Services from 1988-1992. While there, he was instrumental in establishing semi-annual two-hour introductory sessions for the staff, students and faculty to reduce the incidence of trouble calls to the university Help Desk. Paul also helped initiate the creation of one-page FAQs for specific applications, functions, and platforms. To this day, these handouts are well-utilized in the student computer rooms. Paul continues his tradition of two-hour seminars; MacTech Services hosts free monthly two-hour seminars in Pasadena to introduce new products to interested attendees.